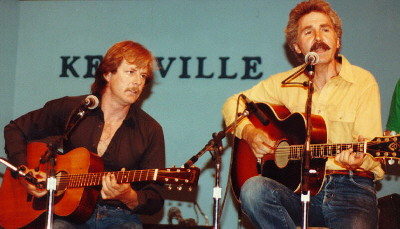 Jeff Gillette
3/18/53 - 2/15/99

Jeff Gillette was a phenomenal guitarist. Whether it be accoustic or electric guitar, lead or rhythm styles, Jeff had his own unique energy and sound and was a valuable member of several of Southern California's best bands.
Jeff toured the U.S. and Europe with The Gillette Brothers Band, featuring Jeff on lead guitar, his brother, Steve on rhythm, Wayne Hartel on bass and Rey Castillo on drums. Jeff's guitar can be heard prominently on his brothers most recent CD, "Texas & Tennessee."
Many will also remember Jeff for his work with the Walter Trout Band. He taught guitar and worked as a studio musician on recording sessions. He was fully acquainted with the guitar styles of Eric Clapton, Jimi Hendrix, B.B. King, Joe Satriani, Eric Johnson, Gary Moore, Albert Lee, Larry Carlton, and Jeff Beck.
Although music was his first choice as a career and the thing he wanted to be remembered for, Jeff also taught Karate and had his own Karate school where teaching children the martial arts was one of his greatest joys. He died on February 15th of cancer, and his ashes were placed in the sea off Newport Beach at a famous surfing spot called "The Wedge" in keeping with his wishes. He is survived by two teen aged daughters, Jayme and Julie. Jeff was a loving father and a charismatic musician, and he will be missed.


__Return to Steve & Cindy's Home Page